Vacuum Cleaner and Carpet Cleaner Repair
VACUUM BELT INSTALLATION & VACUUM CLEANER REPAIR ESTIMATES
FREE
(see below for full service rates list)
VACUUM SERVICE RATES
LABOR RATE: $50 PER HOUR
PREMIUM VACUUMS
FULL SERVICE
CLEANING
2 HOURS
(PARTS NOT INCLUDED)
DISCOUNT VACUUMS
FULL SERVICE
CLEANING
1.5 HOURS
(PARTS NOT INCLUDED)
RED-CARPET
FULL SERVICE
CLEANING
1 HOURS
(PARTS NOT INCLUDED)
ESTIMATES &
BELT INSTALLATION
Now what about Shark vacuums?
Well that gets complicated. The answer is a solid maybe. Click here for details about Shark Vacuum Cleaner Repair.
Here are a few of the services we offer:
UNCLOGS
Our tech's secret tricks and specialized tools assure even even the ugliest clogs don't stand a chance in
our tech room!
BELT REPLACEMENT
Free installation of any vacuum belts purchased from Vacuums R Us. Bring your vacuum with you for on the spot service!
CORD REPLACEMENT
We can replace your old frayed cord with a new one. If you prefer, we may be able to give you an even longer cord.
MAINTENANCE & CLEANING
We eliminate pet odors with full immersion cleaning in odor-eating enzymes.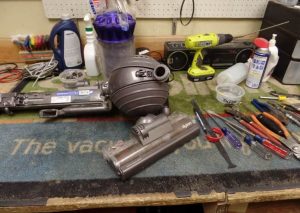 MOTOR REPLACEMENTS
Original manufacturer or aftermarket motor replacements are available
TROUBLESHOOTING
Don't know what's wrong with it? We do! Estimates and trouble shooting are always free!